SHOP BY PREGNANCY CONCERN: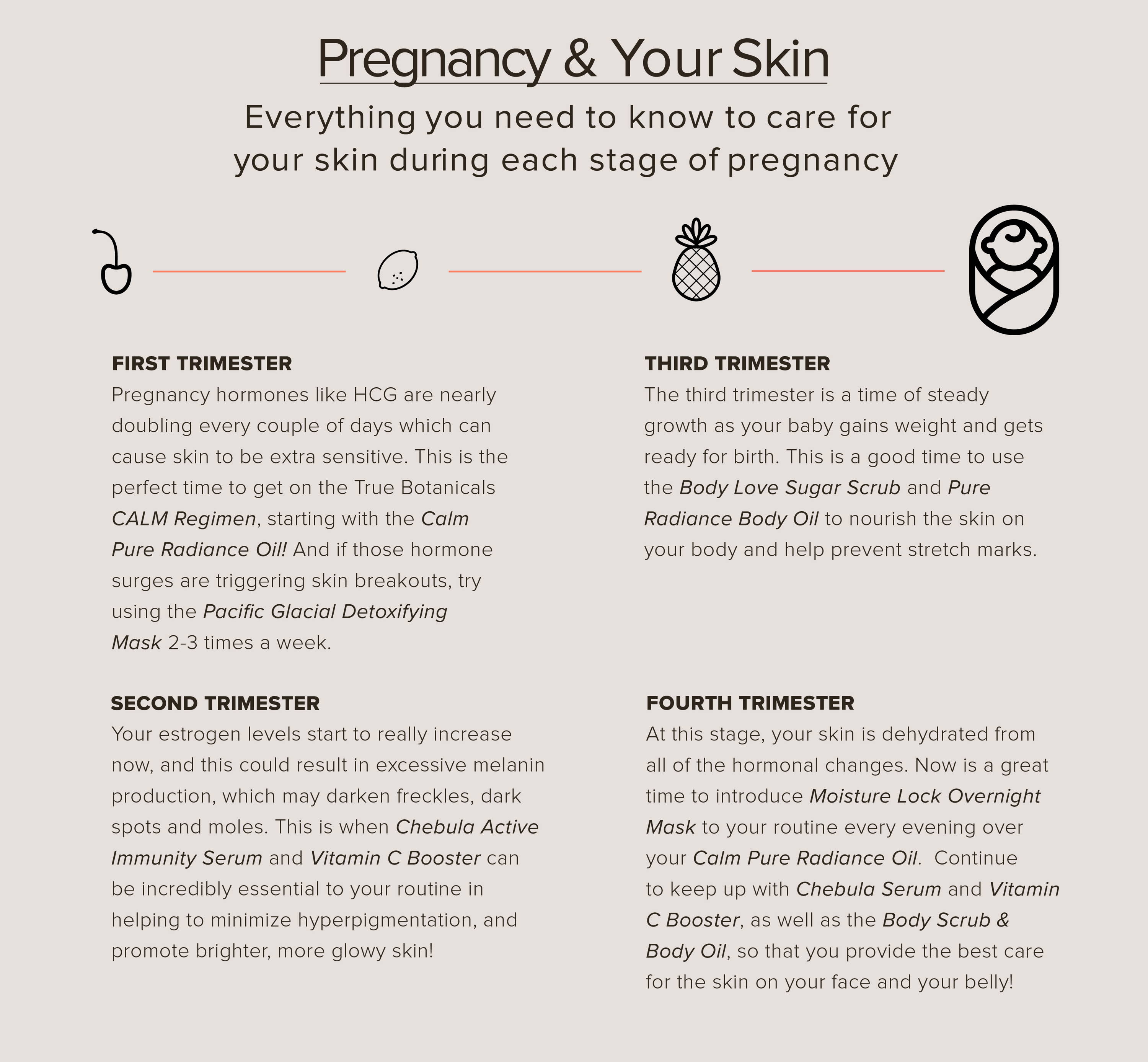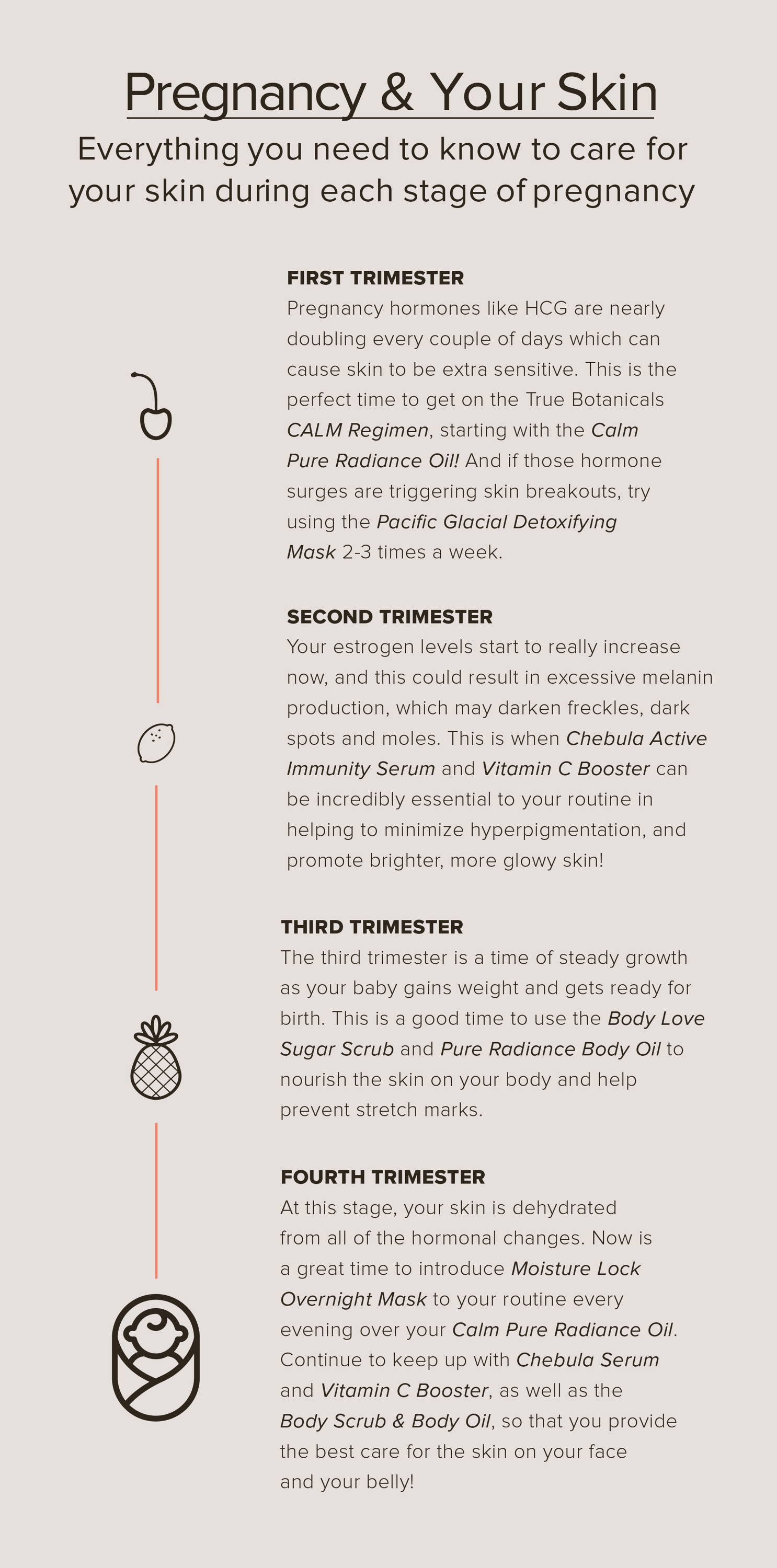 What it is:
The ultimate skin-transforming powerhouse for sensitive skin features 27 plant-actives and one of the most potent Calendula oils to help fight inflammaging and keep skin calm.

Why it works for mamas:
Calm oil contains anti-inflammatories for reactive sensitive skin, and anti-bacterials for breakouts. Plus, it's incredibly hydrating and nourishing!
What it is:
A hydrating anti-aging serum that's clinically proven to outperform the leading serums by strengthening your skin's immunity to help prevent, protect and correct five signs of aging: minimize the appearance of fine lines and wrinkles, even skin tone, smoothe roughness, firm, and brighten.
Why it works for mamas:
Chebula helps to strengthen your skin's immunity to withstand the stressors of hormonal changes through your pregnancy journey, and keeps your skin looking youthful and glowing.
What it is:
Dramatically brighten skin and help to rapidly reduce dark spots and hyper-pigmentation with Vitamin C in its most potent and effective form. Mix into your face oil, serum, or mask for maximum results.
Why it works for mamas:
Vitamin C helps to prevent and visibly reduce dark spots and melasma that commonly appear during pregnancy.
Are all of your products safe for pregnancy or breastfeeding?
All True Botanicals products are certified MADE SAFE®, the most comprehensive safety standard available, which certifies they are made without 6,500 toxic chemicals known to harm human and environmental health. Our Calm Regimen of products is specifically designed to address the skin needs of women during their pregnancy journey, but other True Botanicals products may also be used – please consult your doctor for their recommendation on all products used while pregnant.
What ingredients do you ban from your products?
All True Botanicals products carry the MADE SAFE® seal which bans 6,500 toxic chemicals known to harm human and environmental health. For a full list of the ingredients we ban, please go to the MadeSafe Website.  
What causes changes in skin during pregnancy?
Hormonal changes during pregnancy can lead to wonderful benefits like the 'pregnancy glow' but they may also potentially wreak havoc on your skin and cause it to become more sensitive and reactive, resulting in breakouts. It's important to notice and care for the changing needs of your skin during and after pregnancy.
Should I change my skincare regimen based on my trimester?
Hormones associated with pregnancy change over time and throughout the journey as they are essential to the development of your baby. These hormones may have an impact on your skin and sometimes cause it to become sensitive or reactive.
First trimester:
Pregnancy hormones like HCG are nearly doubling every couple of days which can cause skin to be extra sensitive. This is the perfect time to get on the True Botanicals CALM Regimen, starting with the Calm Pure Radiance Oil! And if those hormone surges are triggering skin breakouts, try using the Pacific Glacial Detoxifying Mask 2-3 times a week.
Second trimester:
Your estrogen levels start to really increase now, and this could result in excessive melanin production, which may darken freckles, dark spots and moles. This is when Chebula Active Immunity Serum and Vitamin C Booster can be incredibly essential to your routine in helping to minimize hyperpigmention, and promote brighter more glowy skin !
Third trimester:  
The third trimester is a time of steady growth as your baby gains weight and gets ready for birth. This is a good time to use the Body Love Sugar Scrub and Pure Radiance Body Oil to nourish the skin on your body and help prevent stretch marks.
Fourth trimester:
At this stage, your skin is dehydrated from all of the hormonal changes. Now is a great time to introduce Moisture Lock Overnight Mask to your routine every evening over your Calm Pure Radiance Oil. Continue to keep up with Chebula Serum and Vitamin C Booster, as well as the Body Scrub & Body Oil, so that you provide the best care for the skin on your face and your belly!
Please visit Pregnancy Collection to filter products by the skin issues you are facing.
Do you have any other pregnancy skin care tips?
● Hydrate your body and your skin!
● Consult your doctor on new products you'd like to use
● Notice changes in your skin and find pregnancy-safe products to address them.
● Research and Learn about potential toxic chemicals in various products. MadeSafe.org is a good resource – here is the MADE SAFE Hazard List of the most toxic offenders across product categories.
● Get lots of sleep ;)