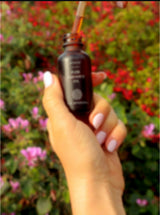 De-Puff Under Eye Roller
A cooling under eye roller to smooth and depuff the eye area.
What it's good for
Fine lines and wrinkles

Dark Circles

Anti-Aging
What it is
Say goodbye to tired, puffy eyes. This gentle yet effective under eye roller tool helps to reduce puffiness, so that your under eyes naturally look brighter and fresher. Our eye
...
roller tool helps visibly firm skin and reduce the appearance of fine lines and wrinkles, while helping to smooth puffiness around the under eye area. Made with stainless steel, this easy to clean roller stays perfectly cool to de-puff while helping your serums and moisturizers absorb better. Pairs perfectly with Chebula Active Serum or Deep Repair Eye Serum.
WHY IT WORKS
Our eye area is known to be naturally prone to fluid retention. The De-Puff Under Eye Roller helps to stimulate circulation to move the fluid away from the eye area. ... This circulation also helps to visibly firm and tone the eye area, diminishing the appearance of fine lines, wrinkles and puffiness.
FAQ
Can I use this roller with my Chebula Active Serum?
Absolutely, our under eye roller tool will help your Chebula Serum absorb more easily into your skin.
How do I clean this roller?
You can clean it with mild soap and water after every use. Make sure to fully dry the roller after cleansing.
The products described on this website are not intended to diagnose, treat or prevent any disease or to affect any structure or function of the skin or body. The information on this website is not medical advice and is not a substitute for consulting with a healthcare provider.
How to Use
A.M

Apply an even layer of eye serum to the orbital bone. Gently roll all around the eye area including the brow bone with the large roller. Repeat on both eyes. Using the smaller roller located at the end of the tool, roll around the entire orbital bone and target more delicate areas like the inner corners or pressure points.

P.M

Repeat steps from your morning routine.
Our Licensed Esthetician's Tip
In the morning, use the small roller to stimulate the pressure points on your brow bone to awaken tired eyes.
"I've reached this point in my life where I've stopped compromising on what I deserve. That's why I'm absolutely obsessed with True Botanicals."
--Brooke Shields, Model & Actress
--Brooke Shields, Model & Actress