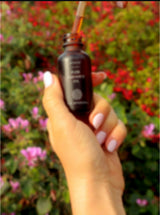 Nourishing Cleanser
A gentle balancing facial cleanser for oily and breakout-prone skin.
Find it in a skincare set and save
Skincare Sets cannot be purchased with subscriptions. Please order separately.
Close
Skincare Sets cannot be purchased with subscriptions. Please order separately.
Close
What it's good for
Breakouts

Anti-Aging

Uneven skin tone and roughness
What it is
A non-drying, hypoallergenic, balancing facial cleanser that goes to work on congested skin leaving the skin clean and hydrated. Our luxurious face wash is naturally scented with helichrysum, lavender, and
...
carrot seed to invigorate the senses.
REVIEW HIGHLIGHTS
"The first skin product to ever help me"
Fader
"The cleanser smells good and my skin feels great after a wash. It leaves my face feeling hydrated and not dry."
"Perfect cleanser for acne/combination skin!"
Rachel
"I instantly felt a difference in my skin. My skin didn't feel stripped. I switched my entire skincare routine over to True Botanicals and I'm never looking back! My skin looks and feels better than ever."
Read All Reviews
WHY IT WORKS
While it may seem counterintuitive, drying out breakout-prone skin only serves to exacerbate the problem. Our Cleanser blends together nature's most powerful ingredients to fight blemishes while hydrating the skin. ... Black willow bark is nature's salicylic acid, without the irritating side effects. Helichrysum is a powerful, centuries-old soother—the ideal remedy for breakouts.
FAQ
Do I apply the cleanser to a dry or damp face?
Apply 1-2 pumps of Cleanser to a damp face.
This product doesn't produce suds — how do I know if it is cleaning my face?
We formulate our cleanser without lathering surfactants like Sodium Lauryl Sulphates(SLS), instead we formulate our cleansers with naturally derived surfactants that effectively remove oil, dirt and impurities without stripping the skin, no lather necessary!
The products described on this website are not intended to diagnose, treat or prevent any disease or to affect any structure or function of the skin or body. The information on this website is not medical advice and is not a substitute for consulting with a healthcare provider.

Key Ingredients
Green Tea & White Tea
Instead of water, we use green and white tea as our base to give your skin more nutrient-rich polyphenols (antioxidants), which are known to help deliver skin-soothing, anti-inflammatory, and toning benefits.
Black Willow Bark Extract
This is nature's salicylic acid. It gently exfoliates dry, dead skin cells and helps to reduce the look of fine lines and wrinkles. Unlike its synthetically derived clone, it delivers all the benefits without potential irritation.
Helichrysum
This ingredient is a natural, healing and restorative powerhouse. Its known antibacterial, anti-inflammatory, and antifungal properties have been used for centuries to fight impurities.
How to Use
A.M

Massage hydrating cleanser gently onto wet skin. Rinse with cool water and follow with Clear Nutrient Toner and Chebula Active Serum.

P.M

Repeat same steps in the evening.
"My skincare routine is the one I always dreamed of. These products are clean, luxurious, and effective!"
-Logan Browning, Actor
-Logan Browning, Actor